As you may have noticed, the game has not received many updates as of late besides the occasional bug fix. There is a very simple reason for that! We are working hard on bringing you version 10 of SimpleMMO.
Honestly, this is probably my most favourite update yet. It doesn't contain anything ground-breaking nor any new major features. However, we have overhauled many areas of the game to make it sleeker and added a lot of small quality-of-life improvements.
For you technical folk, the majority of this update is our transition from our own traditional CSS to TailwindCSS. We've had to overhaul almost 4 years worth of redundant and bulky code. It certainly wasn't a quick and easy process! Not just that but we are also moving away from jQuery in favour of Alpine.js.
TailwindCSS is a utility-first CSS framework that runs behind the SimpleMMO Web App. Now that we have done the legwork and transitioned the Android app over to TailwindCSS as well, this means that updates for both applications will be be incredibly seamless. Not only does it bring us consistency in our design across the board, but it helps with accessibility too. Our old implementation was a segmented, bloaty, and inconsistent mess. It made it difficult for us to work with dark mode and adjust our design to help with accessibility. We used to use absolute values fairly frequently which did not respond well to devices that have their font size turned up for example. Our transition will hopefully fix these issues.
Before we get into it, I just want to make you aware that we are still in the very early beta stage and what will be shown here may not be what you will get. Things may change between now and public release.
We will display the old and the new designs so that you can compare them yourself. I'm sure you can figure out which one is the old design and which one is the new design.
Travel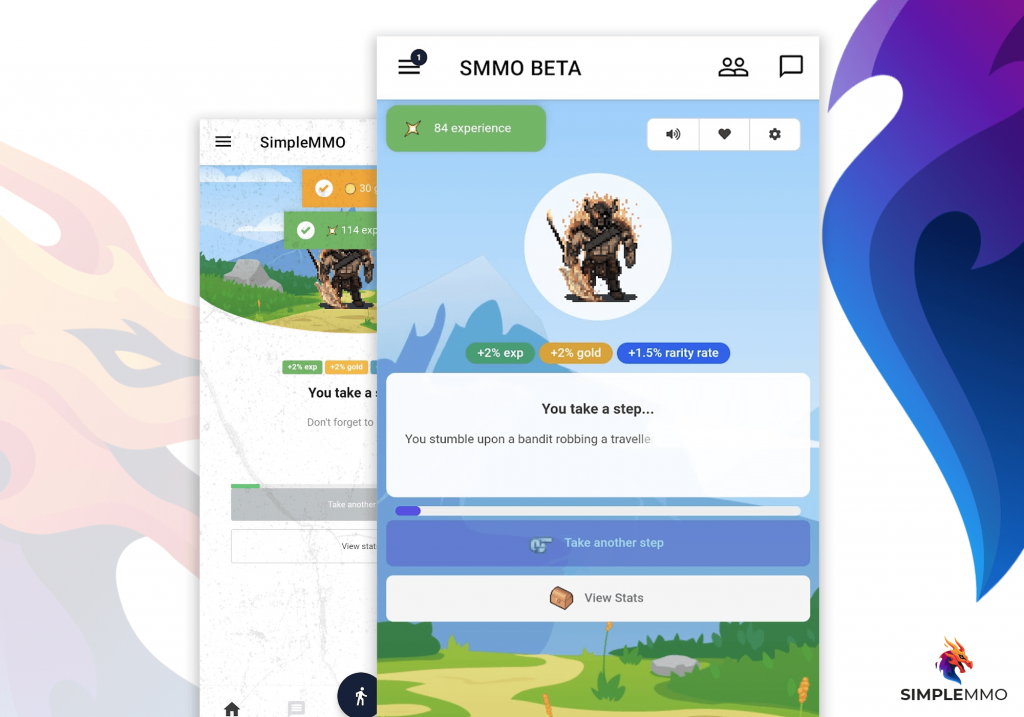 We have transitioned our "travel" design to a new, cleaner design. The EXP and gold you gain on the step is no longer massive and it does not cover your player avatar (unless you have an incredibly small device).
World Bosses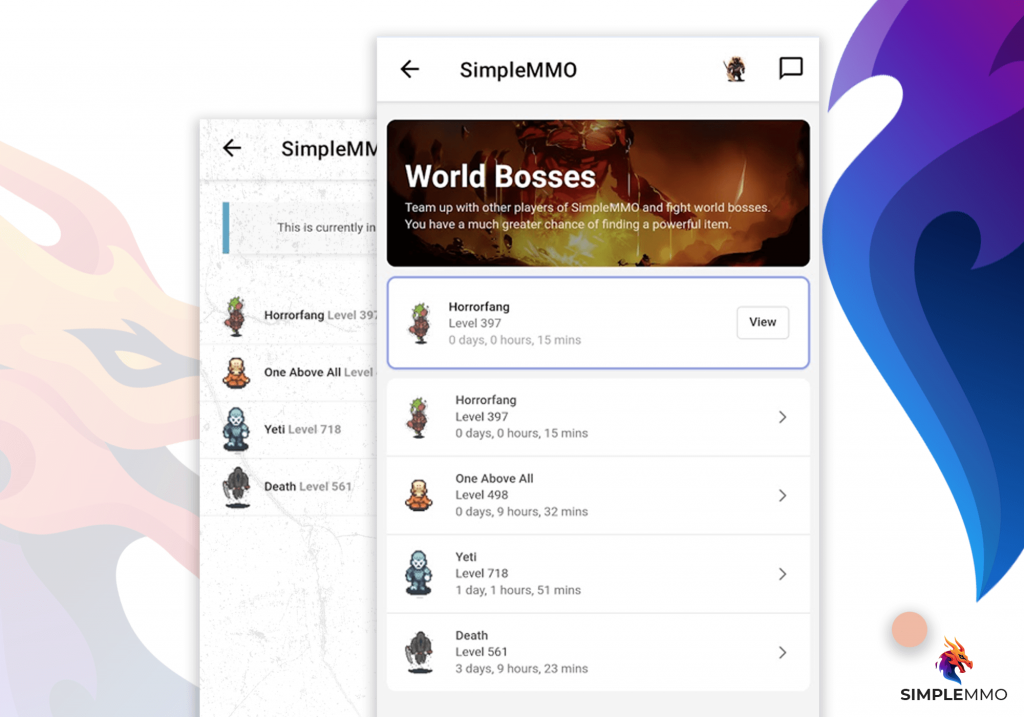 World Bosses definitely needed some TLC. It was a simple page with minimal information. Now the design is a bit more fancy but it highlights the next upcoming world-boss. This makes it easier for you to quickly glance at what is coming up.
However, functionally, nothing has changed with the world bosses. It is still as much of a nightmare as you remember it.
Town
The town will now feature categories making it easier to navigate. Rather than just having a huge wall of multiple links, it is now divided for quicker and easier access. We have also moved the most frequently used pages to the top.
The Bulletin Board pulls out from the right of the screen (in a similar way as the Web App) and the "Horse and Carriage" has been renamed to "Change Location" to avoid confusion.
Quests
Quests recently got a huge overhaul not so long ago so not too much has changed here. We have definitely cleaned things up a bit though. The response you get from performing a quest now pops up on the top right of the page rather than having it displayed the bottom beneath the buttons. We found that when it appeared at the bottom of the page, some players were missing it entirely due to having a smaller device.
Player Popup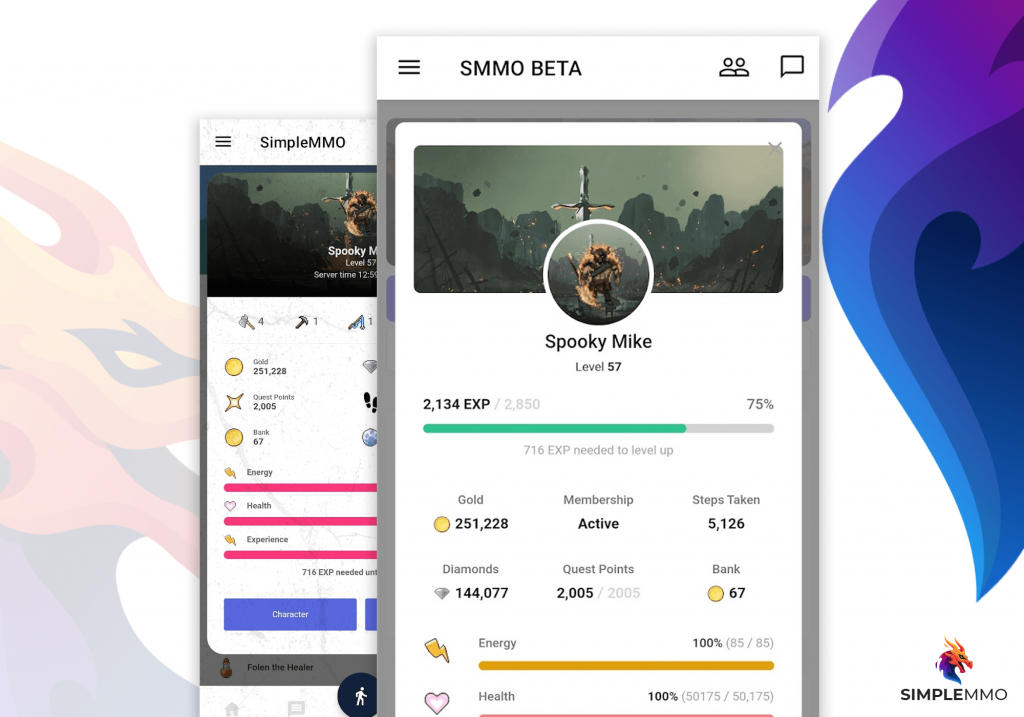 The player popup has been cleaned up too. The player background is clearer, the text is more readable and the spacing is larger. We wanted to give more real estate to the players experience bar due to that being the most common reason why a player opens up the popup.
Messages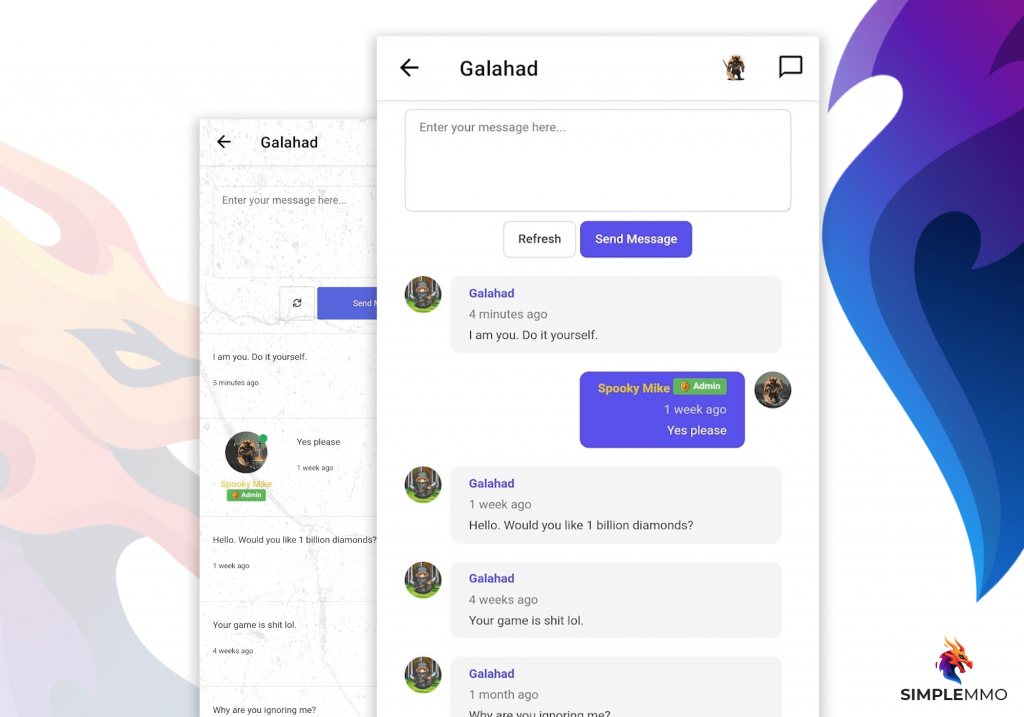 Messages are much more "chat-like". Honestly – we have some big plans to change the messaging system completely so that is a real-time chat client. However, until then, we have cleaned it up a bit and gave it a slight make-over. When that will happen is completely up in the air.
Item Popup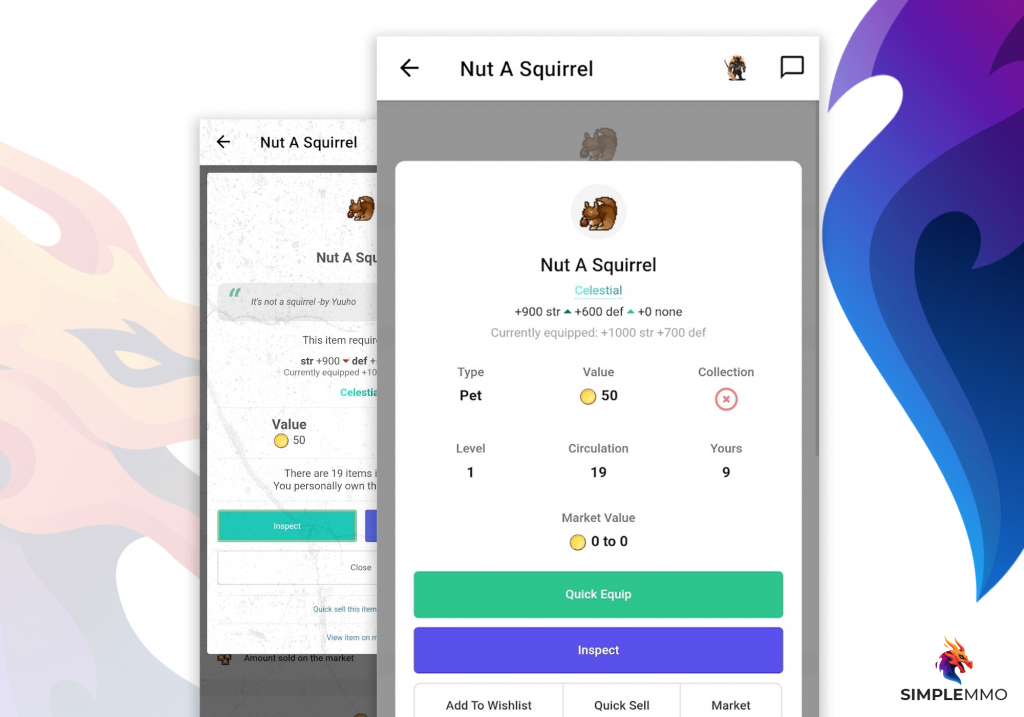 The item pop-up has been cleaned up significantly with two huge quality of life additions; the quick equip button and the collection check. You will be able to quickly see if the item/avatar/background/etc is currently in your collection or not. Not just that, but if you come across an item in-game (such as via an NPC or while travelling), you can quickly equip the item instead of having to navigate away from the page entirely. These are very small changes but they will make a huge difference in your gameplay.
(Yes we are aware that the new pop-up does not contain the item description. This will be fixed.)
Inventory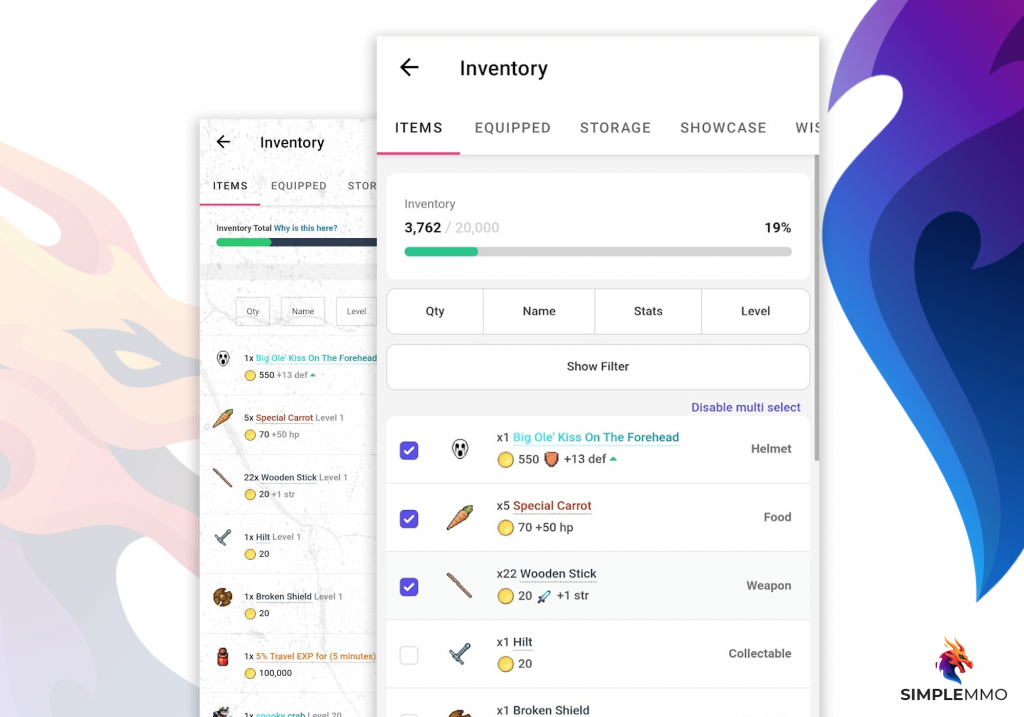 The inventory has received a bit of a make-over. It's not too drastic but the biggest change is how the multi-select works. Now you get checkboxes when selecting multiple items rather than holding and pressing on them. The old way of holding on an item was incredibly flimsy at the best of times.
Crafting/Gathering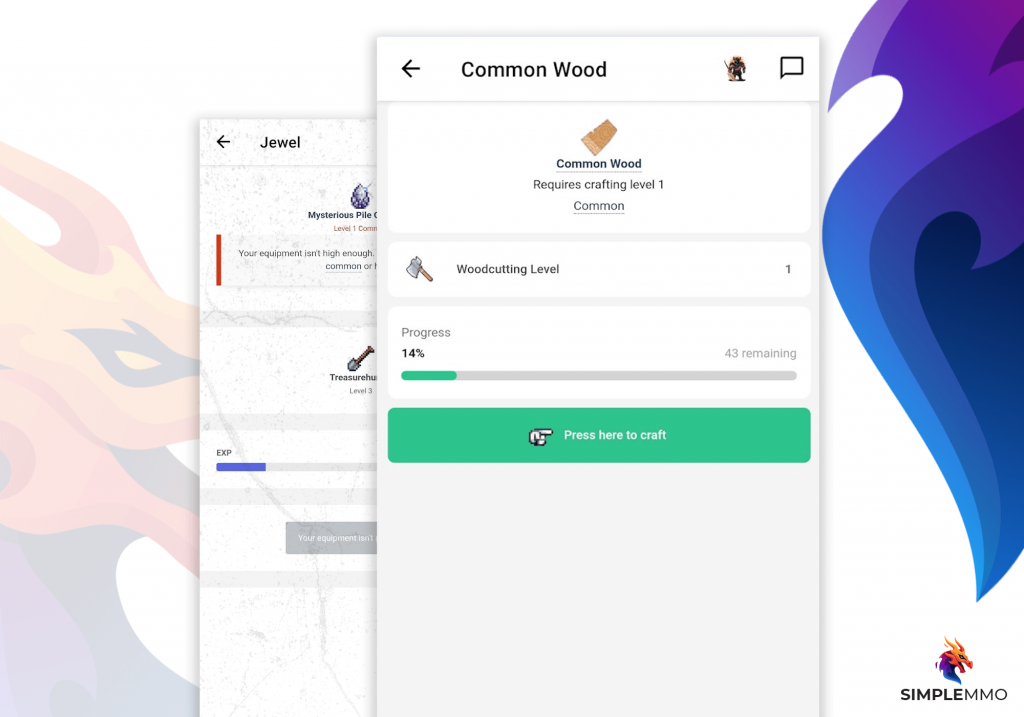 Ask and you shall receive. Gathering and Crafting no longer requires you to press and hold on the button! Now it works in the same way as the travel system. You simply press the button once, wait a few seconds, and do it again.
Battle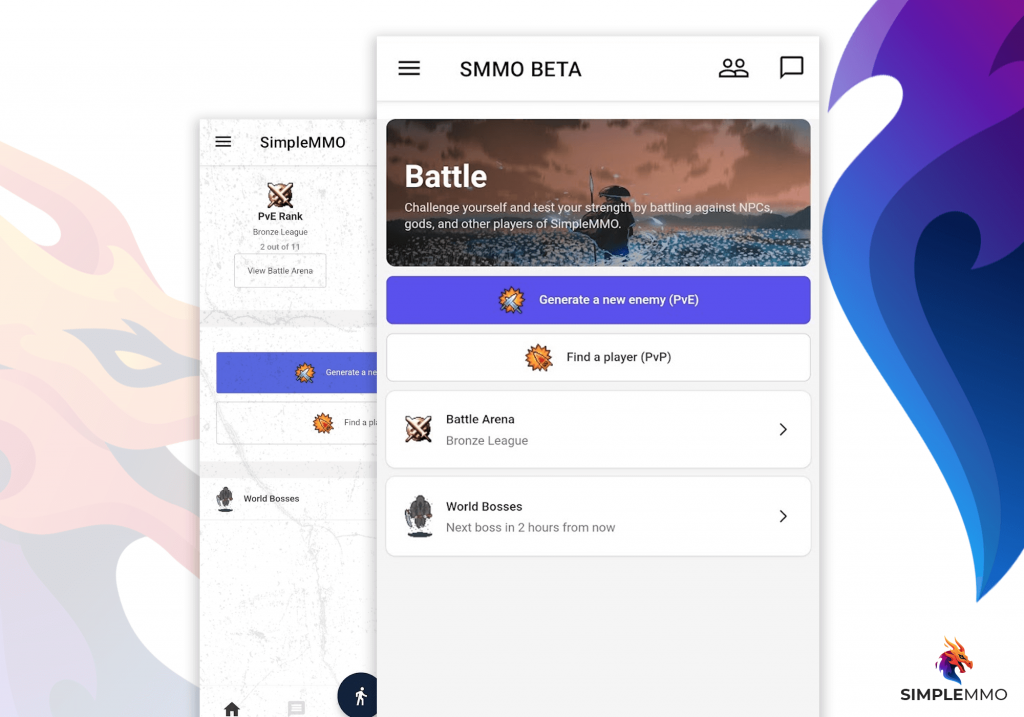 Battle has changed slightly so make it more appealing. Functionally, it is exactly the same. However, it looks much nicer, right?
Market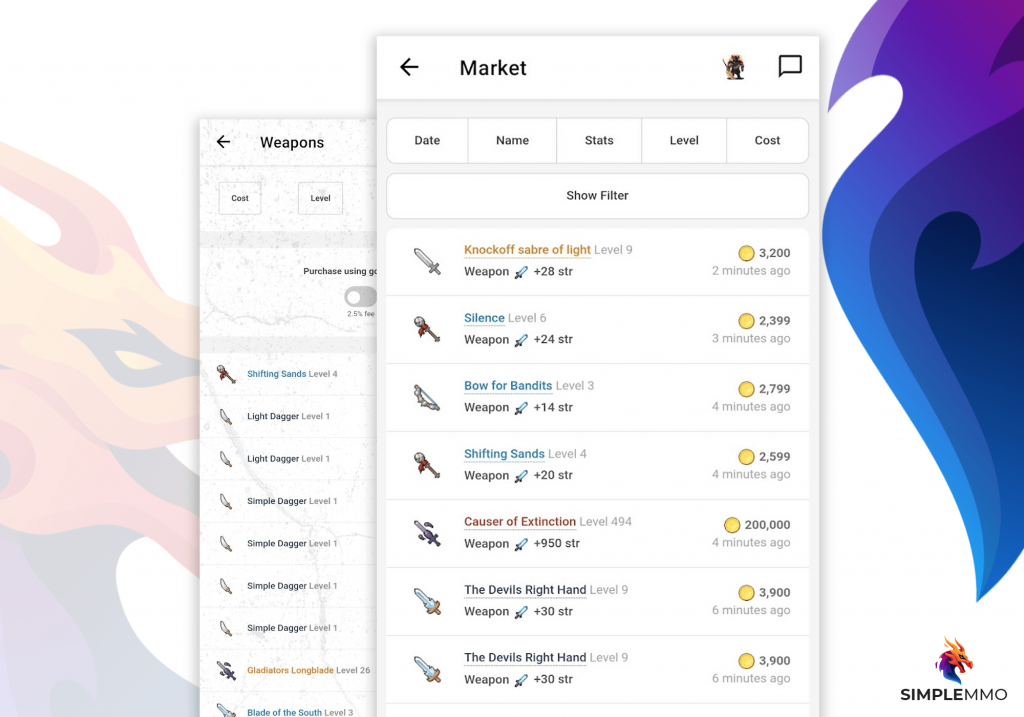 You will be happy to know that the market has been completely rewritten. Now you can filter through multiple item types and rarities, and the ordering now works as you would expect. You no longer need to face the dreaded "You are ordering without a filter" error message. It's also way more efficient.
Profile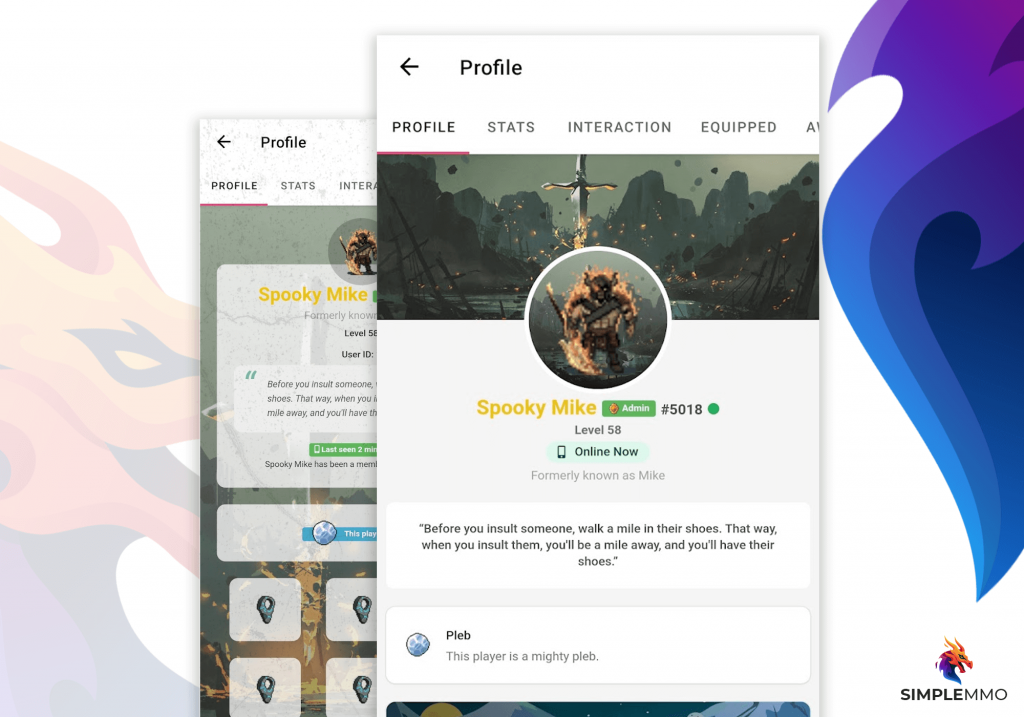 The profile page has received a much needed do-over. This design is more akin to the Web App version. The background is way more visible and things are just way more consistent. Not only that but we have made the profile page approximately 40% more efficient so hopefully it should be faster when viewing other profiles.
That's not all!
We have changed a lots of things around the game. The Discussion Boards, for example, have received big changes but it is not listed above.
We look forward to breaking your workflow!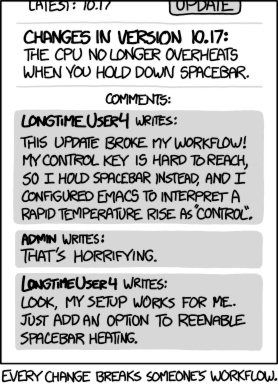 Q&A
When?
Probably sometime mid-November if everything goes as planned. We originally planned to have this release finished by the Halloween event but the undertaking was much larger than we expected.
What about the web app?
While this update focuses heavily on the Android app, the Web App will still benefit from all of the additional functionality (for example, the improved market and the quick equip button)
Will this be in pubic beta?
Probably not though I can't say it for certain. Keep an eye on our Discord or Twitter to see if anything changes.
Shoutouts
A big shout out to the following people who have helped give V10 alpha feedback.
Dyl
Tilphia
Kiban
Baetyl
Amberjack
Oubi
Wiqued
Musette
Eclipse, The Witch of Arkhan
Poonjo
Hephaestus
Y0mu
Doot