Crafting was initially built in the summer of 2020. It was a commonly requested and highly anticipated. In fact, it was one of the first suggestions that was ever passed on to me. After all, it makes sense. Most MMOs have a crafting system so why didn't SimpleMMO?
Everyone was excited when the crafting system was released. Tears were falling from people's eyes. Players were swooning. Children were screaming. Hearts were throbbing. Fists were shaking. History was made.
Until … a few weeks later when players (myself included) started to see a massive glaring issue: it provided absolutely no utility. There was no reason to craft. The items were bad and everyone who could craft the items already had them or didn't need them. The progression was difficult and pointless. Why would anyone grind the crafting level when it provided absolutely no use? The only utility that the crafting mechanism served was the ability to craft diamonds with Diamond Shards. That was it. The only other reason to craft was obviously to satisfy an underlying tendency of performing masochistic behaviours.
A few weeks later, it got me pondering: how can it be improved?
I was dwelling on this question for literally years. Emptiness was consuming my smooth brain the entire time. It was like as soon as I thought of the word "crafting", my brain would immediately shut down and I would be staring into an abyss. Not a single moment during that entire time could I think of a genuine way to improve the crafting system.
I then started asking myself another question: "Why?" and it became glaringly obvious. I had never crafted in any game ever (besides the bare minimum that I might've been required to partake in). I had no underlying knowledge of the system. I had no inspiration for it. How could I think of a crafting system when I simply had never used one myself? This then lead on to another question: "What is the soul that the crafting mechanic has that makes it so damn enticing?"
By this point, I'd spent so much time pondering on the damn thing and being frustrated at the lack of ideas that my eagerness to improve the system slowly dwindled with time. In fact, I even scrapped the crafting system momentarily in an update for the Android App. I was about to bury the hatchet and declare its official time of death.
That is until a moderator, Oubi, made an offhand comment about replacing the crafting system with a new system that he envisioned called "Archaeology". The idea was to give players the opportunity to exchange item shards (such as armour shards) for items of that specific type (e.g armour shards can be exchanged for armour, etc). I loved the general idea of it, but it required a lot of refinement.
However, this got the cogs turning once more. The forges were lit up and ideas were flying in and out of my brain. I took a lot of notes on different ways of implementing a brand new crafting system until I came up with a final idea that I was happy with.
So, without further ado, I would like to present the new crafting system.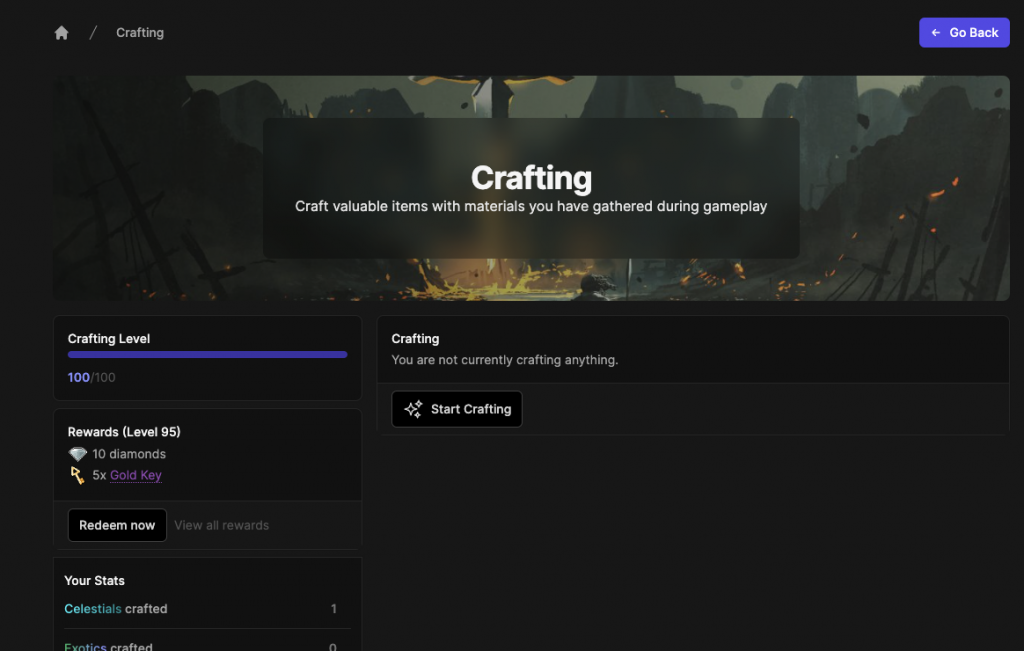 The new crafting system allows you to craft any item within the loot pool using any material. The item rarity matches up with the material rarity, so if you craft an item with epic materials, then you are guaranteed to receive an epic item. This applies to every rarity tier (celestial included!).
To get started, when you press the "Start crafting" button, a pop-up will appear.

From this point, you can select what you want to craft. You can craft many things, such as a specific item rarity type, keys, or diamonds.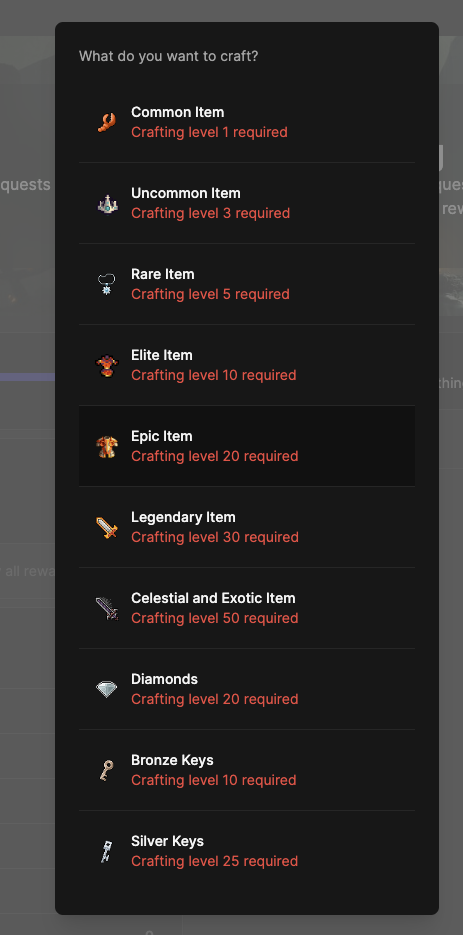 For this occasion, I will choose an "Epic Item" because I have a bunch of epic materials left over from testing.
After selecting the item you wish to craft, the following screen will appear: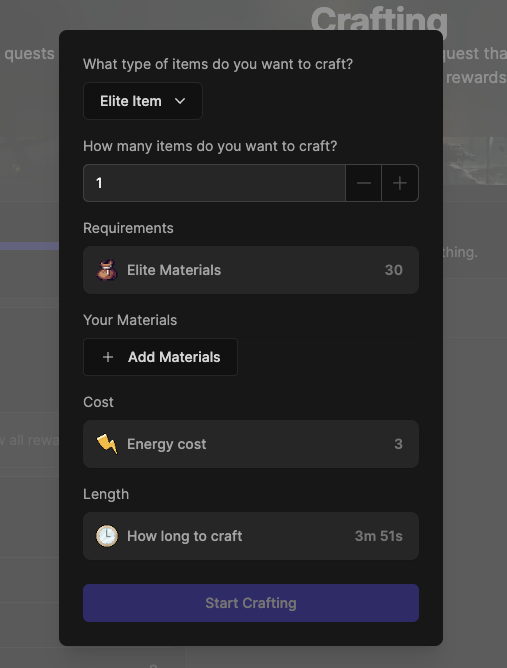 This gives you an overview of your crafting session. From here you can choose how many items you wish to craft in one go (at a maximum of 10/20, depending on your pleb status), how much energy it will cost to craft, how long it will take to craft, and the materials you need to craft the items.
I haven't added any epic materials yet (and I need 30), so if I press the "Add Materials" button, the following page will appear: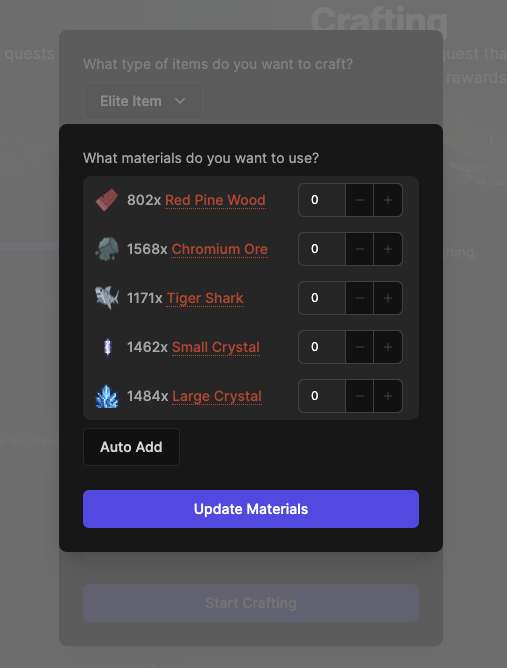 This lists all of the materials that I have in my storage and inventory that is relevant to the requirements. From here, I can choose any material as long as the material quantity matches with the requirements. I can mix-and-match them too. For example, I could decide to use 5x Large Crystals, 5x Small Crystals, and 20x Tiger Sharks. It's entirely up to me.
To make things easier, I'm going to press "Auto Add" which will automatically select the materials so I don't have to.

Doing so has automatically selected 30 "Chromium Ore" materials. All I need to do now is to press "Update Materials" to commit them to the crafting session.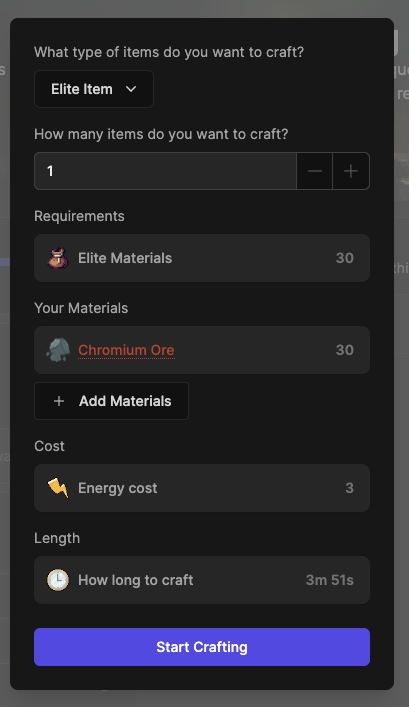 After reviewing the page, I am happy with what I am about to craft. It will cost me 3 energy, 30 Chromium Ores and take almost 4 minutes, but in return I will receive a guaranteed epic item.
Once I have started the crafting session, it will then display the crafting status on the main page.

After waiting the full time it takes to craft, I can then claim the items by pressing on the "Claim Items" button and voila…
I have been given EXP for my character, crafting EXP, and the epic item. It's as easy as that.
Here is another (albeit extreme) example. If I craft 15 celestial and exotic items in one go, it will look something like this: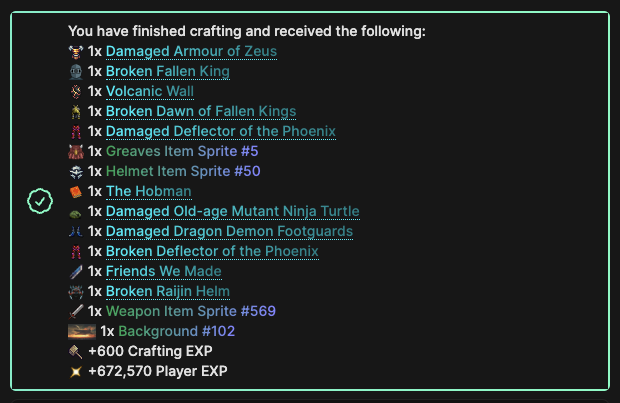 One of the issues we encountered when developing the system was trying to make it enticing for high-level players to actually use the system. We completely understood that being able to craft "Epic" items was simply not enough. Why would a level 10,000+ player be interested in solely creating epic items other than the player EXP? That is why we have introduced reward tiers. Every time your crafting level increases by 5, you are eligible for a reward. The rewards differ between keys, materials, and diamonds.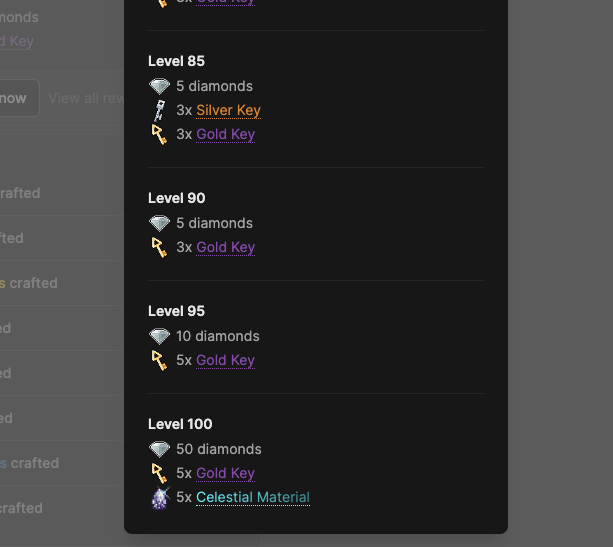 As you can see, once you reach level 100 in crafting, you will receive 50 diamonds, 5 gold keys, and enough celestial materials to produce a celestial item. Basically, this means that if you reach level 100 in crafting, you are guaranteed a random celestial/exotic item.
New Materials
This crafting system will arrive with new materials and material encounter rates. As we are now introducing celestial materials, we are also throwing something new into the mix too: untradable materials. Now, at first you might gasp in horror at the mere thought of having an untradable material in the game. However, there is a beneficial trade-off. This allows us to significantly improve the encounter rates for the materials at no risk of disrupting the market. This also gives another incentive for players to utilise the game's mechanics more rather than mindlessly collect materials and then sell them on the market. Potentially, this also gives us the ability to provide players with rewards for in-game feats too (world bosses maybe?).
Not all materials you encounter will be untradable. Just some of them. Sometimes you will come across a celestial material that is tradable and other times it might be untradable.
Here are the new rates that we currently have in place for the update:
Celestial material encounter rates are double the rates of the legendary materials pre-update.
Legendary material encounter rates increased by 316%
Epic material encounter rate increased by 47%
Elite material encounter rate increased by 41%
Rare material encounter rate increased by 25%
Uncommon material encounter rate increased by 25%
Common material encounter rate decreased by 29%
These rates might change before release. The final rates will be included in the update log.
Old Materials
One of the big questions when developing and testing this system was: "What to do with the old materials?" and it's a big one. After all, because the crafting system was useless, players had been accumulating materials for literally years. If we allowed people to use their old materials then the game would instantly be flooded by a massive wave of newly acquired items which could be catastrophic for the game's economy.
We throughly discussed two potential solutions:
1. Allow players to convert old materials to new materials. However, the conversion ratio would have to be incredibly high to account for the huge quantity of items that have been gathered in the past few years. Setting the conversion rate to such a high level could have dissuade players to not use this mechanic at all thus making this solution potentially futile. It also felt to me a bit insulting to be given the option of a conversion but have the ratio so high that it made almost no sense to convert. It's like when you enter a competition to win the EuroMillions lottery and you get an email saying, "YOU WON!", but you click on it and its only 20 pence. I'd rather not win at all than have that initial sense of hope.
2. Bump up the quick sell value of the materials and convert them to collectables. This would give the materials a new utility (i.e adding them to the collection). This would still pretty much serves the same purpose that they had for most people (i.e collecting and selling) as they certainly weren't used for crafting bar the odd exception. The new crafting system would be completely fresh untainted by the old mechanics.
We hummed and harred over each solution discussing the positives and negatives of both. Ultimately, I wanted to make the decision based on utility-perspective rather than what is going to be easier (i.e less backlash). No matter which decision we make, people are going to be annoyed regardless. So I felt it was important that we made sure that we were not just mindlessly ripping out a part of the game that could still serve a valid and helpful purpose to the players.
Throughout the discussion, I was leaning further and further towards converting them to collectables because, to me, it felt like it made more sense utility-wise and for us to start on a clean slate. After all, it is an entirely new system. This solution would give the materials a "new" utility (i.e collecting), but that utility is essentially what materials are used for by most players anyway hence the quotation marks. However, it felt difficult to just completely nullify peoples material collection over the years.
To help with this, I wanted to see how many materials were actually in the game, and how many players actually crafted. This ratio would help me gain clarity between the number of people who actually use the materials for crafting and those that hoarded them in their storage/inventory.
The result was staggering. There were more than 45,000,000 materials tucked away in people's storage and inventory. That was way higher than I thought it was. Not just that, but the average level of crafting of players who actually crafted enough to level up the crafting skill (i.e level 2 and higher) was just a mere 4.1. When I looked at the average crafting level of all players who had simply crafted once and then stopped, the average dropped significantly to 2.09. In comparison, the average mining level was 9.
This gave me some much needed clarity. Crafting was extremely underutilised by the players and if I were to add a mechanism that allowed players to convert materials, it would have to account for 45,000,000 materials. I felt more and more like the ship had sailed with this.
At the end, we came to a reasonable solution. We decided to open up the old crafting page (to those that still want to use their old materials on crafting) and after a month or so, we will convert all old materials into "Collectables" and switch off the old crafting page. This solved a few issues:
It will continue to give the materials a crafting utility in the same way as it always has.
It will give the materials a "new" utility after a month.
The new crafting system will remain entirely fresh. A completely fresh start. New mechanics. New crafting level. New material encounter rates. New materials. New crafting mechanisms. Everyone starts from the same point.
A personal apology to those that have spent time hoarding as many materials as they could in the past few weeks in anticipation for the new crafting ability. It was originally my intention to be able to use the old materials as part of the system, but after a much-needed discussion and a review of the in-game statistics, we decided it would be far too difficult to balance old materials on the new system given the astronomical number of materials there are in circulation. It was a hard decision but I believe it is the correct one to make.
Edit: I want to make it clear that players who has invested significant resources into the crafting mechanic will be acknowledged and rewarded. This has applied to every feature "reset" in the past and this will be no different.
Overview
New crafting level. Everyone starts at level 1.
The maximum crafting level is 100.
You can select the rarity of the item you wish to craft. The requirements are based on that rarity.
Any material within its rarity group can be used. Crafting no longer requires specific items.
The higher the rarity of the item you wish to craft, the longer it takes to craft.
The higher your crafting level, the faster it takes to craft an item.
You can craft up to 20 items in one go if you are a member or 10 if you a free player.
It costs energy to craft an item.
The energy requirement adjusts according to the rarity of the item you wish to craft as well as the quantity.
You can play any other areas of the game while you craft (unlike jobs).
You must manually claim your crafted items upon completion.
You can access the old crafting system by a link on the main page. This will be removed in one month.
Old "legacy" materials will no longer be available from gathering nodes.
You can craft silver and bronze keys.
Diamond shards and its requirements remain unchanged.
You can get a reward (diamonds/materials/keys) for every 5 levels of your crafting level.
Reaching crafting level 100 gives you enough items to craft a celestial/exotic item.
Celestial materials will be introduced.
New materials (well, they're the same name, but they have new sprites).
Some materials you encounter will be untradable.
Material encounter rates have been significantly increased.
Minimum encounter level for all material rarities have been significantly reduced. (For example, Legendary nodes required a minimum skill level of 100 and now it has been reduced to 15)
And that's all!
We are still testing it at the moment so some things may change before release. The update log should contain it all when it has finally been released.
We anticipate that this update will be available later this week or early next week.
I hope you're all looking forward to it.